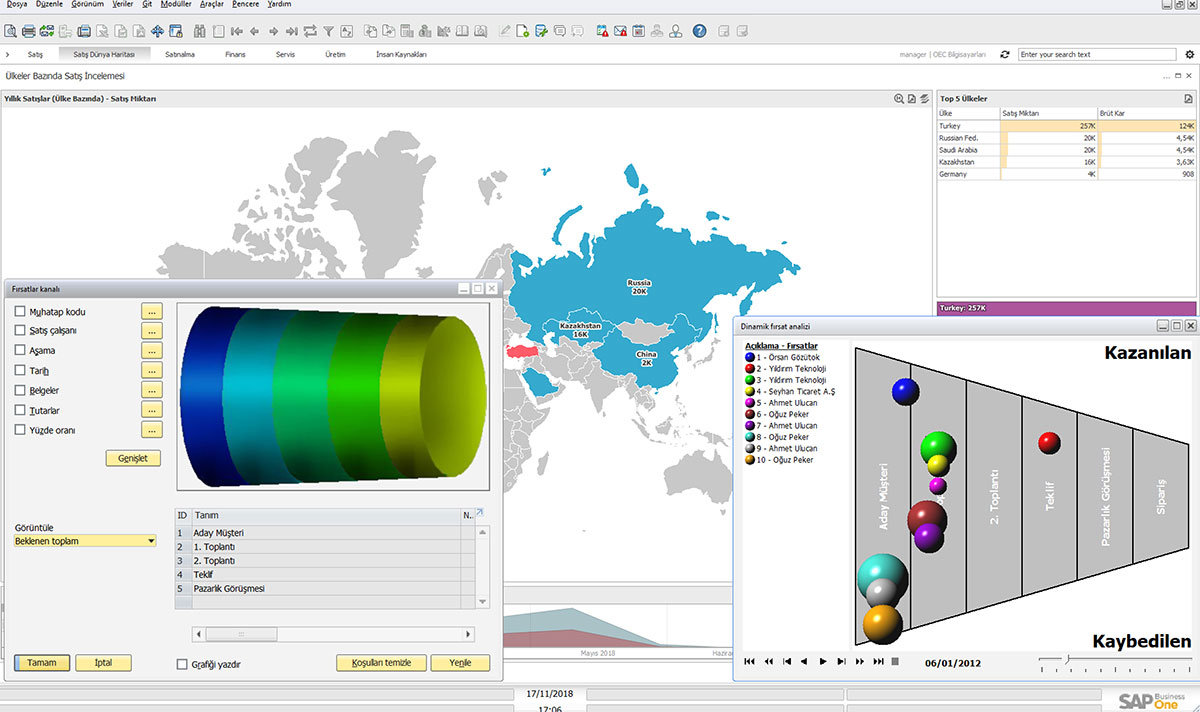 SAP Business One CRM Applications
Companies that record and report all relations with their customers and suppliers have significant improvements in terms of institutionalization and efficiency. With SAP Business ONE CRM (Customer Relationship Management) solutions, it is possible to follow all these processes, especially on mobile platforms. At the same time, it is facilitated to manage the CRM process more effectively by providing both e-mail and agenda (activity) integrations with software such as Outlook, which covers a significant part of our business processes.
Opportunity Management
Customer activity planning and execution
Pipeline analysis
Offer Management
Campaign Management
Batch Transactions (Activity, e-mail, SMS etc.)
Salesperson Performance and Premium Reports
Sales teams expense management
The most important obstacle to the effective use of classic CRM Software was that the applications were generally limited to desktop applications. Serving a solution such as CRM, which concerns sales teams that are usually in the field, only on a computer screen naturally restricted the use of sales teams. Like many CRMs today, SAP Business ONE – CRM applications also work on mobile devices with all its functions. Thanks to these applications, which can be used as IOS (Iphone) and Android applications, sales teams can instantly transfer their data to CRM applications while in the field.
Another important integration in terms of CRM is the structure that enables SAP Business ONE – CRM to communicate directly with Microsoft Outlook e-mail and agenda management tools that are widely used by companies. Thanks to this structure, it is possible to carry out the following functions without ever leaving MS-Outlook screens and without the need to open SAP applications.
Customer Balance Information
Customer CRM Opportunity Information
Customer Open Documents (Offer, Order, Waybill, Invoice, Activity)

In the light of this company information accessed, the transaction to be made over the incoming e-mail can be decided in Outlook and the transactions to be made on SAP depending on the e-mail can be created in Outlook. SAP operations that can be created in Outlook are as follows:
Creating a New SAP Activity (Creating an activity such as phone call, task etc. depending on the incoming e-mail)
Creating a New Opportunity (Creating a CRM opportunity for the relevant company in the light of the information in the incoming e-mail and determining the processes)
Creating a New Offer (Creating an offer in Outlook in line with the features requested by the customer in the incoming e-mail and sending it directly to the customer)
Creating a New Order (Creating an order with the specifications requested by the customer in the incoming e-mail and communicating it directly to both the customer and the relevant people in SAP)
At the same time, information is automatically transferred to Outlook Agenda and SAP Business ONE – CRM agenda for all activities and tasks created related to the incoming e-mail. Users do not have to create a manual agenda except for the operations they perform here.
SAP Business ONE CRM & Outlook User Tasks
Another SAP Business ONE CRM – MS Outlook integration offered independently from Incoming / Outgoing e-mail is user tasks integration. Thanks to this integration, an employee who is both an SAP and Outlook user can see his/her scheduled SAP Business ONE tasks and related documents in Outlook and carry out the necessary transactions.