SME ERP – SAP Business One ERP
Meet SAP's SME ERP product for SMEs!
SAP® Business One ERP is a cost-effective, easy-to-implement, complete business solution; powered by our in-memory computing database (SAP HANA®), the solution can be physically installed or leveraged as a cloud service. Designed specifically for SMEs, the solution enables company growth, increased profitability and control, and automates your business processes.
Both managers and employees can process information more effectively and make the right decisions. Business owners and managers can now access a unified, true view of critical, up-to-the-minute business information from across the entire enterprise from a single system at any time.
It provides full integration with all heavily used Microsoft Office® components (Outlook, Excel, Word, etc.). In this way, you integrate your old habits with a new generation ERP.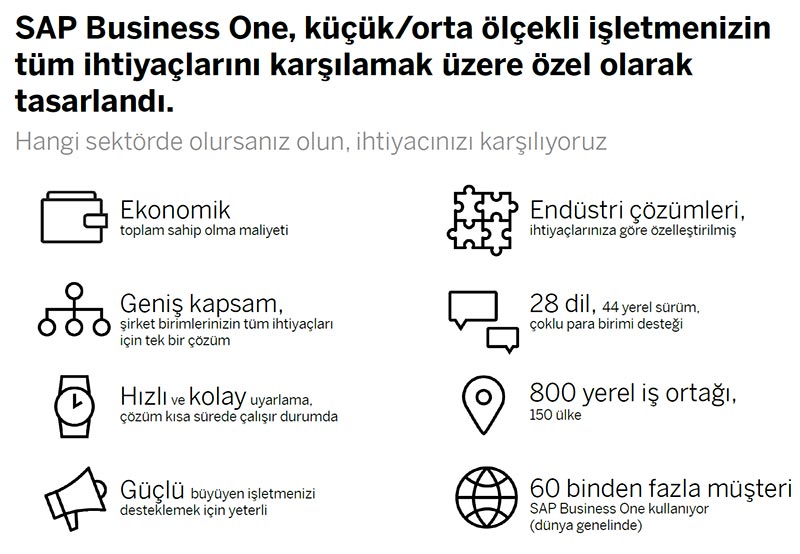 Successfully manage and grow your business.
From accounting and finance to procurement, inventory management, sales and customer relations, project management, operations and human resources, SAP® Business One offers a cost-effective way to successfully manage your business.
With SAP Business One, simplify your business processes, get to know your business better, gain the ability to act quickly and make decisions based on real-time information. And with all this, achieve profitable growth.
Monitor your business from a single point to keep everything under control.
We know you have big dreams and goals for your business. As your company grows, information will reside in different applications and even locations, so it can be difficult to get a one-stop view of what's happening in your business at any given moment. SAP Business One is designed to grow with small and medium-sized businesses. A flexible, modular, yet powerful solution, SAP Business One is extremely easy to use with its user-friendly interface.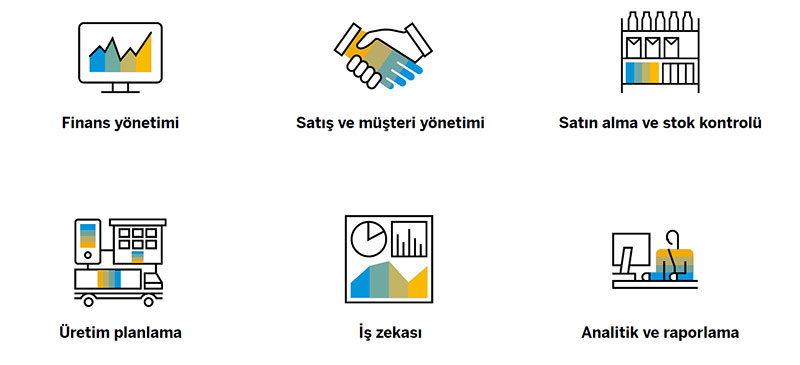 SAP Business One A complete and customizable solution
SAP Business One offers a single, integrated solution that gives you a clear view of your entire business and complete control over every aspect of your operations. It collects all the important information about the business and makes it instantly accessible and available company-wide. Unlike accounting packages and spreadsheet programs, it gives you what you need to manage your core business areas. Because every business is different, SAP Business One is designed to be flexible. Whether implemented on premises or in the cloud, you can access the SAP Business One solution anytime and anywhere with any mobile device. Since SAP Business One runs on both SAP HANA® and Microsoft SQL server platforms, you can choose the platform that best suits your business. Moreover, your employees can start using SAP Business One from day one. As your business grows, you can customize and expand SAP Business One to suit your changing needs.
Do you want to take your business abroad? Our extensive network of more than 800 SAP Business One partners offers and supports 28 languages and 44 country-specific versions.
Full control over your financial information
SAP Business One offers complete tools to help you manage and simplify your financial operation. It automates everyday accounting tasks such as maintaining general ledger and journal entries, supporting tax calculations and enabling transactions in different currencies. You can run all your banking activities, including bank statements and payments as well as reconciliation accounts, through SAP Business One. You can also manage cash flow, track budgets and compare actuals to plans to instantly see how your business is doing. By integrating your financial operation with other business processes such as purchasing and sales in real-time, you can speed up transactions and get a better view of cash flow.
Satış ve Müşteri Yönetimi
Optimize your procurement processes to increase margins
Every small and medium-sized business needs a systematic approach to manage the entire purchasing process, from getting quotes from suppliers to creating purchase requisitions and paying suppliers. SAP Business One helps you manage the entire order-to-payment cycle, including receipts, invoices, returns, and payments. Integrated reporting tools enable you to easily compare suppliers and prices, enabling you to sign more advantageous deals and capture cost-saving opportunities.
Purchasing and Inventory Control
Business intelligence, analytics and reporting give you a clear picture of your business
SAP Business One offers powerful analytics and reporting tools. It includes a complementary and fully integrated version of SAP Crystal Reports® for SAP Business One so that you can collect data from different sources and produce reports based on company-wide data in a timely and accurate manner. Integrated with Microsoft Office, SAP Crystal Reports enables you to choose from a variety of report formats and control access to the information displayed.
With optional analytics capabilities powered by SAP HANA, SAP Business One takes advantage of in-memory computing for analysis and reporting. It offers real-time access to predefined dashboards and reports as well as productivity tools to support decision processes. Custom forms and queries can be created to meet specific needs without the need for technical training. Settings can also be configured to define exchange rates, set authorization parameters and create internal mail, email and data import and export functions.
Empower your employees to make rational decisions faster
SAP Business One enables smart and sound decisions to be made faster by obtaining all critical information in terms of sales, customers, operations and finance and making them instantly available to the relevant employees. Integrating this data in a single system instead of disconnected, disparate sheets eliminates repetitive data entry, costs and related errors. Workflow-based alerts enable automated responses when important situations arise, allowing you to focus on the most critical events. You get a clear view of your business performance and use more reliable information for decision-making.
With fully integrated SAP Crystal Reports for SAP Business One, you can create dashboards and reports that provide insights into all business areas. You can get answers to even the most challenging questions as you can move from detail to summary and from summary to detail in an easy-to-use and interactive way. Your employees can respond faster to customer needs, and managers can accurately track revenues, costs and cash flow to assess performance and take quick corrective action. For even faster access to information, the SAP HANA version of SAP Business One offers powerful analytics capabilities in real-time, making it easy for users to search SAP Business One for the information they need and instantly generate standard or ad hoc reports.